How old should my child be for their first dental visit?
The American Academy of Pediatric Dentistry recommends children visit the dentist by the age of one, and every six months after that for a regular checkup and professional teeth cleaning.
Gateway Little Smiles introduces children to the concept of visiting the dentist on a regular schedule. Our office was designed especially to ensure a safe, comfortable experience for our youngest patients!
What is the difference between a
regular dentist and a pediatric dentist?
While many dentists serve patients of all ages, we specialize in dental care for infants, children, adolescents, and patients with special needs. Our patient base allows us to focus on the unique needs of younger people, and create an environment best suited for their care.
What happens during my first
visit to Gateway Little Smiles?
During your first appointment, you'll tour the office, meet the doctor, and learn more about the health and development of your child's teeth. This appointment will last approximately 30-60 minutes and includes an exam, dental x-rays (if needed), and time to sit down and talk with one of our doctors. We will discuss your child's health history, normal growth and development of the teeth and jaw, and healthy habits to encourage at home.
What should I do in the case of a
dental emergency?
If your child is in pain or broke a tooth, please call the office immediately. We see emergency or trauma patients as quickly as possible.
Book Now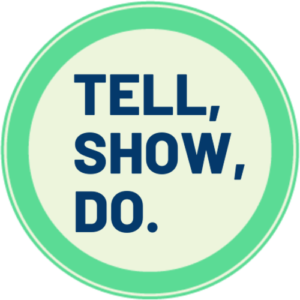 Our Tell, Show, Do technique encourages your child's participation and interest in their appointment and oral health. It makes dental concepts educational and meaningful, and inspires conversations with our dentist, hygienists, assistants, and office team.
With Tell, Show, Do, your child will look forward to their appointment at Gateway Little Smiles!
Turning 1? Time to come!
Kids who visit the dentist early grow up with healthier habits and feel more comfortable with their dentist! If your child has celebrated their first birthday, they're ready for a visit to Gateway Little Smiles!